Bradford Roofing Contractors
We're Bradford Roofing Contractors with Experience
Dillon Bros. Roofing are family owned Bradford roofing contractors. We've grown over the years and expanded operations in the area. Today, we are proud of the professional installers we have and the over 20,000 jobs we've completed.
We're a Bradford roofing company that looks after all of your needs. Dillon Bros. Roofing is proud to offer our clients complete and affordable Bradford deck water proofing services. Learning more about this excellent department is as easy as filling out the tab on our website.
The vinyl coverings that we offer are durable and come in a variety of textures and colours.
Of course, we're a Bradford roofing company too! That means there's lots to choose from if you're looking for industry leading options.
Take our Bradford shingling option for example. If experience is what you're looking for, you'll get that with us. We've been replacing and installing shingles on both commercial and residential properties for over 15 years. Our warranties are the toast of the town. We offer 25+ year to lifetime manufacturers warranties on our products.
Making sure every job gets done right the first time is our priority. Our certified installers are dedicated to 100% client satisfaction.
Honest Bradford Roofers You Can Trust
Transparency is another one of the cornerstones of our business. It's important to us that each and every client understands how we work and what we do. If you take a few minutes to go through our photo gallery, you'll see the difference quality makes.
One of the other services we are extremely proud of is Bradford metal roofing. By offering a variety of style choices, we are able to accommodate every taste. Every detail is looked after. You will find a wide variety of trims and colours to make your metal roof functional and beautiful.
The same goes for the Bradford flat roofing projects we take on. We offer a variety of membranes. It's part of our commitment to making sure any flat roofing jobs we take on are secure and efficient.
Request A Quote
Dillon Bros. Roofing is the clear choice for a variety of roofing projects. Getting started is as easy as requesting a quote from our online form. Remember, we are a family owned company that takes great pride in providing personalized service.
If you're looking for a Bradford roofing company that exceeds expectations, get in touch today.
Request a Quote
Get in touch with us if you have any queries and we will get back to you as soon as possible.
Our Commitment To You
Dillon Bros. Roofing is committed to our customers and aim to meet or exceed your expectations by providing you with consistent high standards of workmanship and quality products that will enhance the beauty of your home and protect your investment.
Safety Comes First
Dillon Bros. Roofing is proud to provide our customers with workers who have the finest roofing and safety training available in Canada. They are trained in fall protection, safety standards and supervision, hoisting and rigging, quality installation and customer satisfaction.
Our Resume
Over the last 25 years, we have grown from a 3-man crew to a team of 35 highly trained professional installers who have completed over 20,000 quality roof installations in the GTA, York Region and Durham Region.
The Problem
This waterfront residence enjoys a fabulous location; however, the natural beauty also brings the relentless cycles of wind and rain that are part of the region. After some years, the previous type of vinyl used on the deck had become unattractive and required replacing. While the vinyl had protected the deck adequately to save most of the substrate, some of the waterproofing details from its installation did not fully protect the deck, and some rot was found. The wooden rails were attractive at the beginning, but they do require a lot of maintenance and the wood eventually rots, as it did in this case.
The Duradek Solution
The areas that had developed rot were repaired, and then prepared the existing substrate for the application of Duradek Ultra Granite Chip vinyl. The vinyl was installed with the detailed attention to water flow and edging details that Duradek professionals are specifically trained in and expertly qualified for. Next, the Durarail powder-coated aluminum railings were installed, using a fascia mounted system. The glass panels between the aluminum posts allows the homeowner to enjoy the beautiful surroundings while still blocking some of the coastal winds from the deck area.
Job Notes
The selection of Duradek Ultra vinyl and Durarail powder coated aluminum railings with see-through glass panels was the perfect choice for these senior homeowners who wanted a low maintenance, non labor intensive outdoor solution. These low-maintenance options will keep their deck looking great without the need to hire laborers annually to maintain it.
* This project was featured Case Study on the Duradek National website at duradek.com/vinyl-decking/case-studies
OUR ROOFING NEWMARKET SERVICES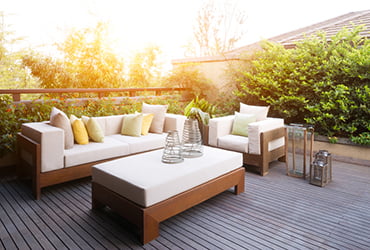 Newmarket Deck Water Proofing
Newmarket Inspire Roofing Products
Newmarket Skylights & Sun Tunnels